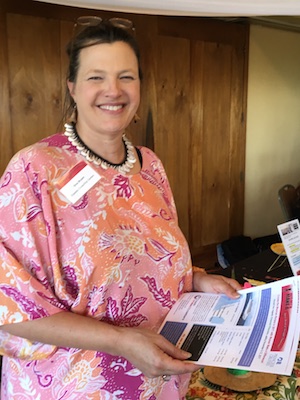 I've been coming to Women Make a Difference for about four months, since I started my travel business. It's been so helpful for me. The group lifts me up and encourages me to keep reaching out, keep making new contacts, and to keep following up with new people.
Val has such a great energy. She is such a professional and expert at connecting people together.
Coming to the luncheon has helped me distill my message of what my business is all about because we always have this one minute commercial that we can give to the other people at our table. Practicing the one minute and making variations on it, so it's different each time, has been helpful.
Gina Bryant, Expedia CruiseShip Centers
---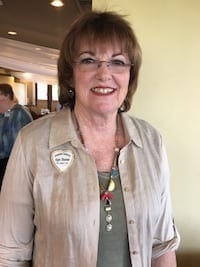 It's something that I look forward to every month.
I see friends. I meet new people that have just arrived to the city or just heard about this group, and I form friendships with people and start business relationships with them.
I really appreciate Val. She's very energetic. She's creative. She listens to the people that she trusts about how to grow this enterprise. She's a person of wisdom, and I've see her grow into that position, and I'm one of her big fans.
Angie Thurman, Premier Jewelry
WMAD attendee since 2002
---
My name is Steven Grant. My wife and I have the Downtown Historic Bed and Breakfast, which is located at I-25 and Central. We have had it for about 10 years.
We started coming to the Women Make A Difference monthly luncheon in early 2016. I find it to be a great way to tell people about our business.
Being a sponsor is a great way to let people know who we are. We found it to be a good venue to get our brand out. We got to go up in front of everybody and talk about who we are and what we do. We found it to be a way to get our name out there to the community and let people know that, rather than going to a hotel or a resort, they can come downtown and join us at our bed and breakfast.
Another thing I like about WMAD is that there are different people every time you come. Of course there are people that I know and that I see all the time. But there are also new faces. I try to sit at a different table each time with different people. I like it when Val gives everyone who is sitting around a table one minute to talk about our business.
It runs really smoothly. It's the same format every time, but it works really well.
It's a great place for people to come, but you've got to come more than just once. You have to invest the time to be there—time and time again—so that people start to recognize who you are.
Steven Grant, Downtown Historic Bed and Breakfast
---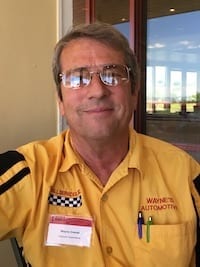 It's about building relationships. You can ask the people in WMAD, 35% have been customers of Wayne's Automotive. We get business all the time. A lot of people do business with me, because I'm always here.
Someone from the group came up to me just today, to tell me, "I went to your shop, these guys treated me great."
It's not a get rich quick thing. It's about relationships. It might take a year before you get business, or you might get business tomorrow. It just depends on you and how you follow up with them. it's about helping people build their business if you can, or being their friend if you cannot, or just being a nice person.
I believe in helping. Part of the reason why I'm a member of this group is because women get screwed so bad when they get automotive repairs done, and most men these days don't know anything about cars. Women know sometimes less than most men. I'm here to make sure that women don't get screwed. My staff knows never to sell something that you don't need.
Here's an example: December was a bad month for us. We were starving. We needed work. A lady went to another garage and got an estimate for $650 to get brakes done on her car. Front and rear brakes. She didn't have that much. She came by our shop because she heard about us. We really needed to sell and we could have sold her breaks. But instead, my staff looked at her car, cleaned the breaks that were on there, and said, "Come back and see us in a year, you're fine." We didn't charge her a dime. But now, she'll be a customer for life.
That's what we go for. We don't go for the quick sell. We take care of you now, and know you'll come back later. If we tell you you need something, you can trust us that you need it.
Wayne Overall, Owner of Wayne's Automotive
---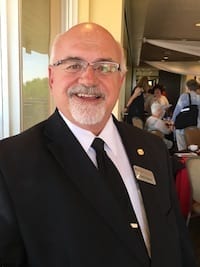 Val creates great connections for people that are qualitative and quantitative. The active members are decision makers. It is a huge resource because of who is in the room.
Stacy Sacco, Professor at UNM Anderson School of Management
---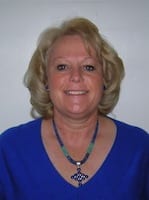 I love that it is a group of women who build each other up. In the workplace, people tend to be negative and tear each other down. That's why it's so refreshing to be around positive and successful women.
It was a really positive experience, and great timing, and now I'm doing my dream job.
Karen Cooper, Independent Insurance Agent
---
I started a new business with BEMER America last year, and one of the first networking events I attended was the WMAD Happy Hour at Red Robin in May. I spoke at length with Leslie Carleton, whom I hadn't seen in at least five years. She encouraged me to attend WMAD meetings regularly, work on relationships first and be consistent.
I took her advice seriously. I attended each month that I could, I started meeting people, and I started doing business with others who attend WMAD. I have done business with eight people I've met at WMAD: I have purchased fragrant soaps, moved my money to simplify my life, learned how my brain works, had an intuitive reading, enjoyed an evening of coffee and painting on canvas, rented space for a BEMER presentation, and hired a business coach; I've rented the BEMER out a couple of times, and I've sold one BEMER.  In the process I have had the opportunity to share the BEMER with about 15 people who attend WMAD through product demos and presentations.
The real impact to my business is the number people I have met as a result of contact with 11 people who attend WMAD. These eleven women and men have directly and indirectly introduced me to at least 200 other people, about half of whom have actually received free BEMER sessions!
Get to know the women (and men) you meet at WMAD – and you may find them opening multiple doors for your businesses, too.
Janna Mintz, BEMER America"
---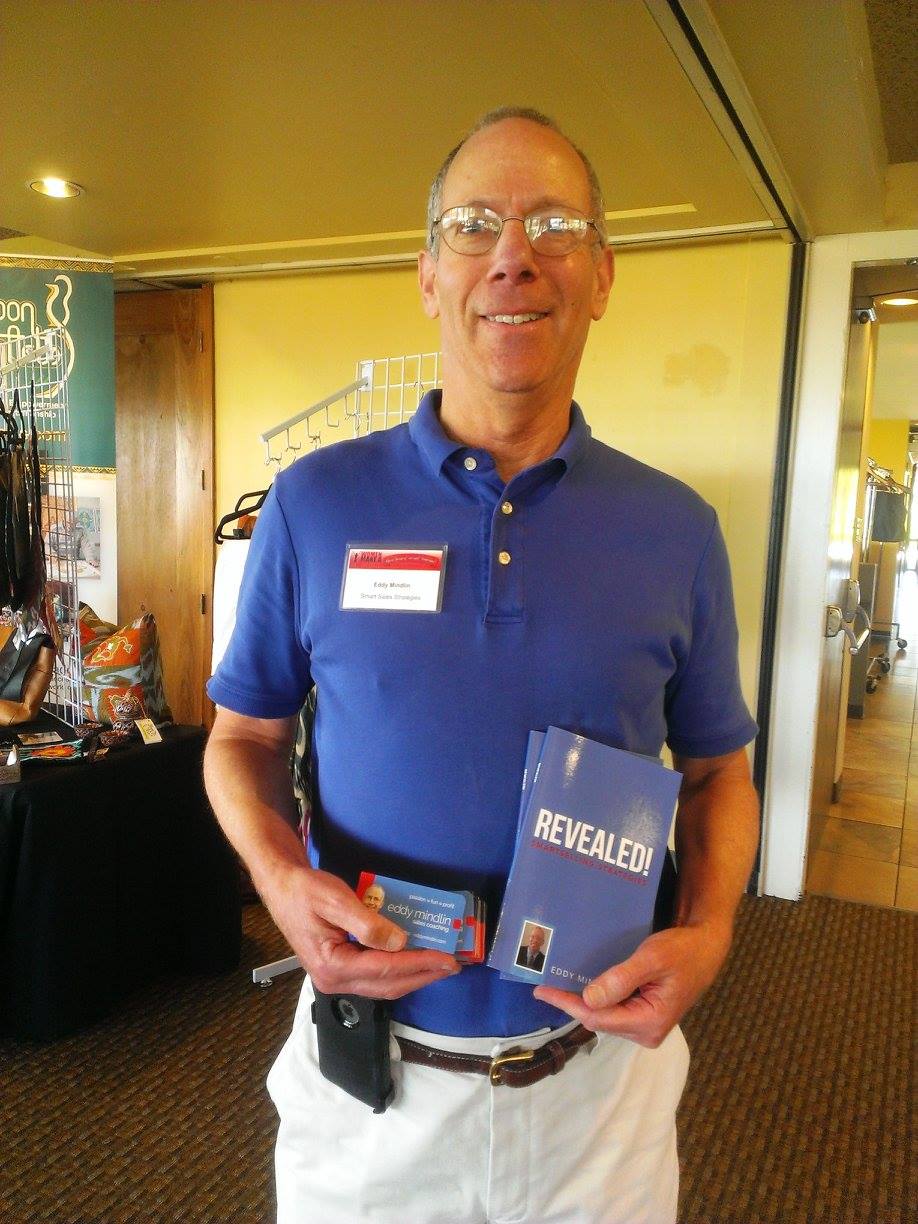 WMAD has helped my business a lot! I had been looking for a creative person to help me with my website and my "elevator speech". I attended a WMAD lunch a couple months ago (I plan on attending each month!) and met someone that took the time to meet with me and help me in a short period of time. This person is now my "creative person" and will do a lot of the writing for my website. I also met a person that has hired me to work with their company to help with Sales Training. I always look forward to attending WMAD lunches as it is always fun and I meet a lot of very nice people.
Eddy Mindin, Author "Revealed! Smartselling Strategies"
---
Having just started my new business, Checks & Balances for You, I found out about Women Make a Difference, and signed up for the monthly luncheon. I enjoyed the networking, where everyone at the table shares with the others about their businesses. I happened to be sitting with a banker and – before the month was up, she called me with a client referral! Wow – that was fast. I also attended the LinkedIn training sponsored by WMAD. Erika Yocom is a wealth of technical knowledge and I was thrilled to get tips and tricks on improving my online presence. WMAD has made a difference in my business and is an important part of my marketing strategy.
Susie Marbury, Checks & Balances for You
---
WMAD is my networking event of choice. No membership requirements, beautiful location, good food, thought-provoking speakers, and fabulous networking….what could be better? Many of the WMAD women have become clients, associates and friends and I'm honored to give back to this wonderful group whenever I am selected as the keynote speaker. A fun connection I made during table networking last year was Andrea Schensky Williams, the Northern NM editor of Natural Awakenings magazine. She was preparing a Rethinking Cancer issue and wound up publishing my article Organizing to De-Stress a Major Illness. Thanks, Andrea! And thanks, WMAD!
Hazel Thornton, Organized For Life
---
When I moved to Albuquerque four years ago, Women Make a Difference was one of the first professional women's networking lunches I attended. At the time, I was looking for a job. What I found were women who welcomed me into their community – women filled with good advice and suggestions of other people to meet or companies to approach. Over the years, these same women no longer greeted me with a handshake, now it's a hug. They know my story and I know theirs. And, when I decided to start my own sole proprietorship in January, there were encouraging words, referrals, and new business connections. And, a couple more friends. I am grateful to these women and to Val Romero for having created an environment in which we can not only learn each other's stories, but grow as people.
Patricia Harrison, Innovative Admin Solutions
---
By attending WMAD luncheons on a regular basis, I have met business colleagues who continually inspire me and raise the bar on what is possible in growing and prospering in our respective businesses. I look forward to WMAD each month for professional development, to reconnect with dear friends and to meet new entrepreneurs making a difference in the services and/or products they offer to us all.
Claudia Lucas, Anew Interior Redesign