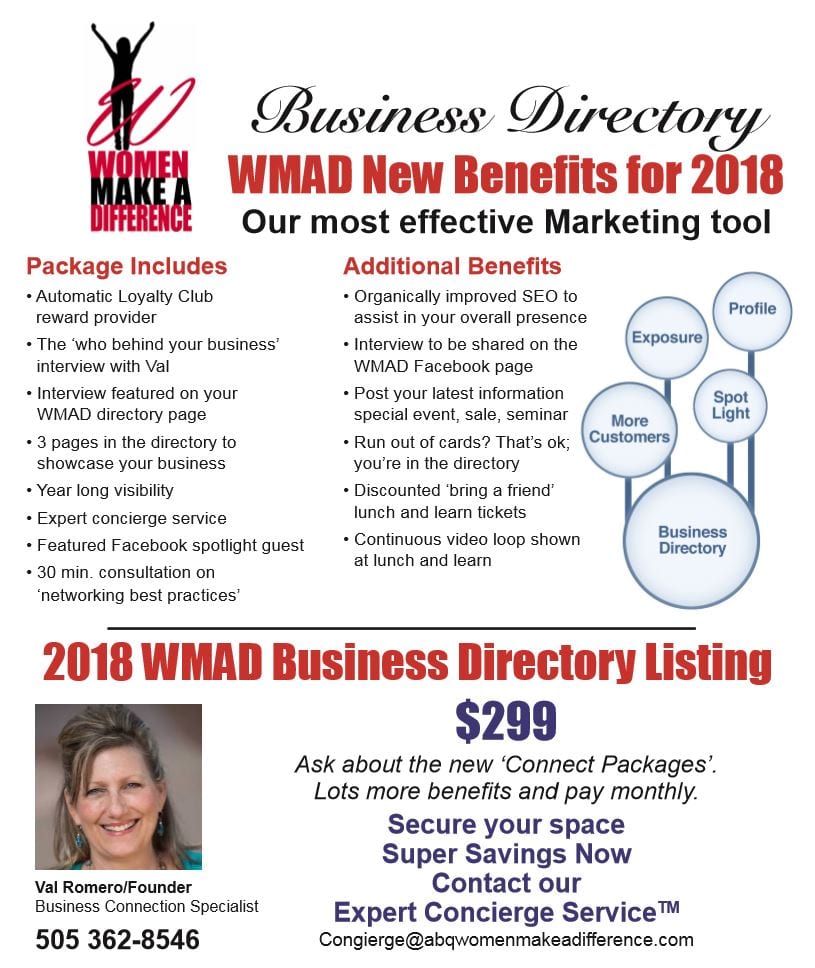 VALUE OF HAVING A LISTING IN THE WMAD BUSINESS DIRECTORY
Visibility all year long via the WMAD website and every eblast – list your business here and get the exposure you deserve!

Annual listing includes a video interview with Val! You'll even get a thumb drive of the interview – to use on your site!
Interviews will be shared on the WMAD Facebook Page

Post your latest information – special event, sale, whatever you like – as easily as logging in and editing your profile

Organically improve your personal SEO to assist in your overall online presence

Easily find the people you met at the luncheon – no worries about saving business cards "Just find me in the WMAD Business Directory"

Upgrade to a 'featured' listing to be at the top of the directory for three months
---
Standard Listing – Annual ($299/year) ~ Business Name, Video Interview with Val, Phone, Address, Email, 2 Images, 1 File Attachment
Standard Listing – Quarterly ($75 + tax) ~ Business Name, Phone, Address, Email, 2 Images, 1 File Attachment – for 1 quarter (3 months)
---
NOTE:
You will need to create a Username/Password. This will allow you to login any time to make changes to your listing. You will receive an email with all your login credentials – KEEP IT for edits done later.
You can upload two (2) images. We suggest your logo and a headshot. You can also upload one (1) attachment – maybe your latest sale!
Video/Podcast Listings – you will be contacted to schedule time to do the interview. It is your responsibility to keep the appointment and get the interview done. Once it is finished it will be uploaded here. Until it is here, a 'Standard' listing will be shown.
Required fields are designated with an '*'.
Once submitted, we will review your listing within two (2) business days. If there are no issues, we will upload it to the site. If we have questions, we will contact you for clarification.